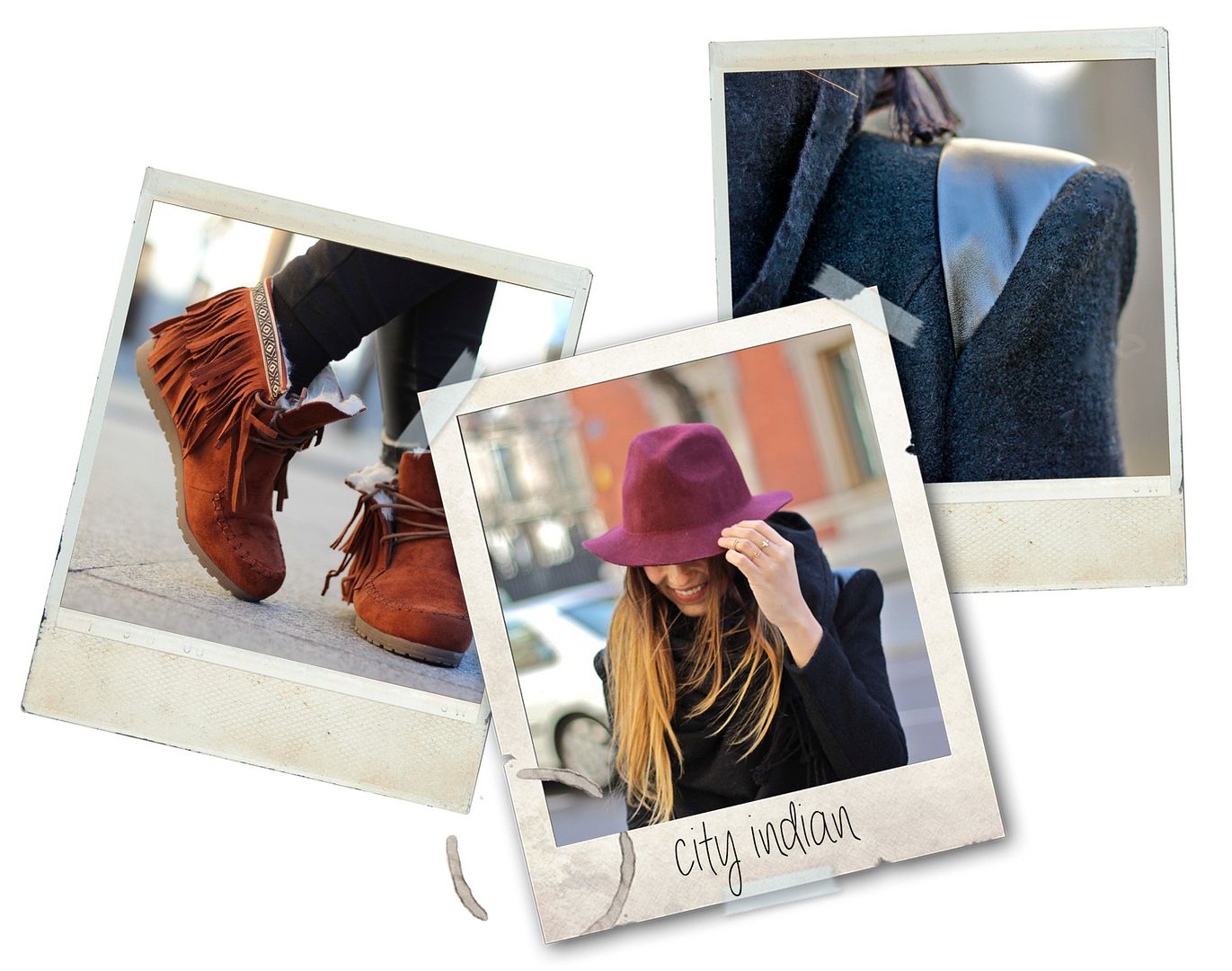 I do love leggings for my daily looks. They are super confy and have a million of possible combinations. They are like a blank sheet of paper: you can draw on whatever you want. It only depends of wich crayons do you use

This time, for a cold morning look I decided to pair my new leggings with black tshirt, huge black scarf and some special items. The fringe ethnic booties (cozy&cool), my beloved burgundy hat and my new black blazer. I love it because of the thick material it is made with and the super chic exagerated shoulder pads with a piece of leather. Perfect to pair with the leggings with a leather stripe that customize the legs and makes it rocks!
Be happy,
Thousands of kisses!
Me encantan los leggings para mis looks de diario. Son lo más cómodo que existe y tienes  un millón de combinaciones posibles. Son como una hoja en blanco: puedes dibujar en ella cualquier cosa que se te ocurra, solo es cuestión de escoger las pinturas adecuadas

Esta vez, para una mañana de frío por Madrid combiné mis nuevos leggings con una camiseta básica larga, una enorme bufanda y algunas prendas especiales y con mucha personalidad. Los botines étnicos con flecos, mi adorado sombrero burdeos y blazer negra. ¡Es una de mis últimas adquisiciones y me flipa! Dentro de que es una prenda muy básica han conseguido darle mucho rollo con unas hombreras muy exagerada con adornos en cuero. La compañera perfecta para estos leggings con una tira de cuero que recorre la pierna de arriba a abajo y que, al igual que la americana, pasa de ser un básico a una prenda mucho más favorecedora y cool (¡que además en rebajas tiene un precio de risa!).
Os deseo un feliz día.
¡Mil besos!
Leggings: Celop Punto-Buylevard 
Blazer: Choies 
Bufanda/Scarf: Vintage (from mum!)
Botines/Booties: Urban
Bolso/Bag:Urbaks (Old)
Sombrero/Hat: Coosy
Anillos/Rings: Beach&Eau