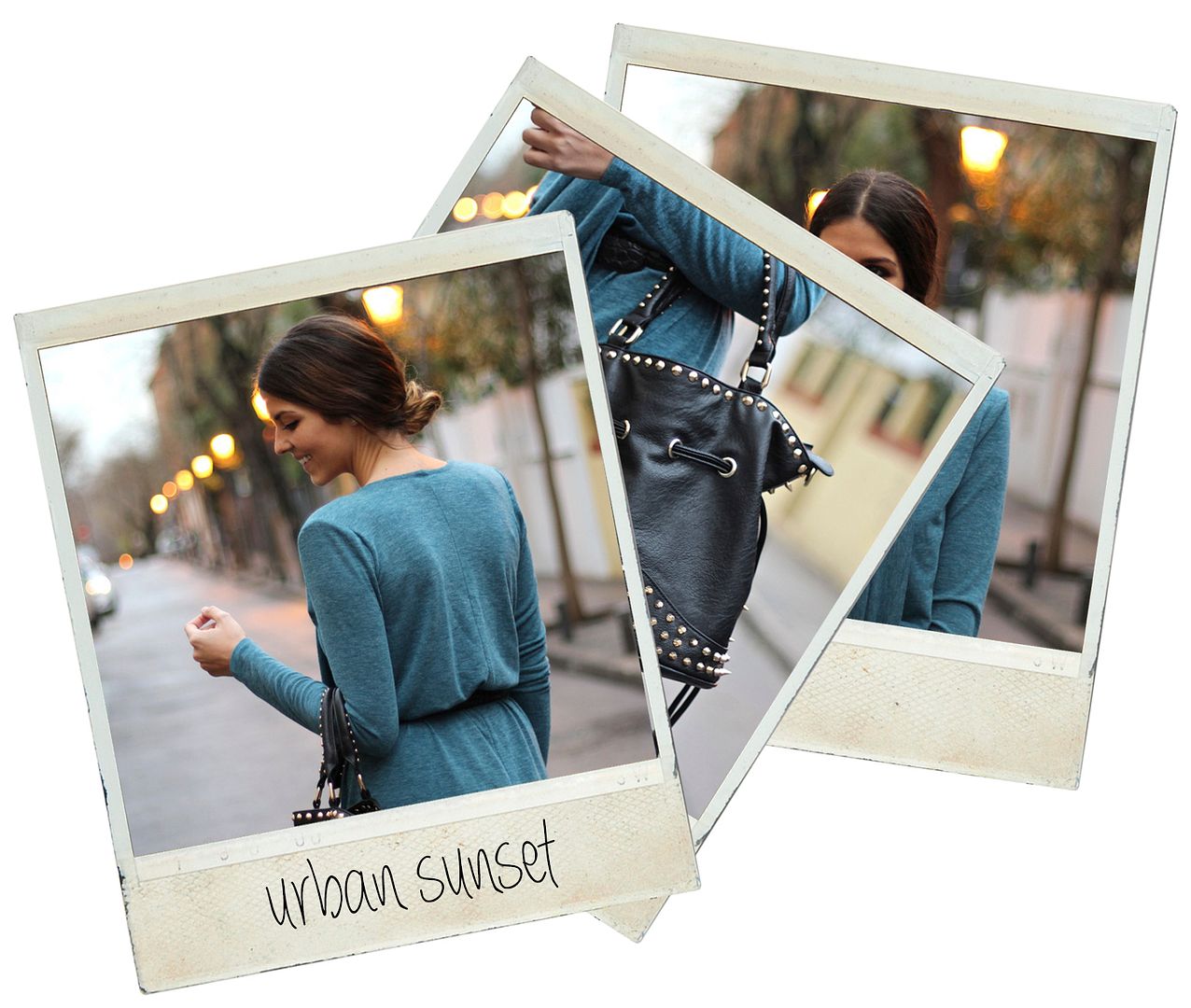 Caribou is the name of the dress model, cool right? I love it because of the beautiful blue color, the great cotton made, and the original asymmetric style. It´s great for me finding this kind of dresses that are so casual and you can wear during the day. But, at the same time, depending of the complements you can also turn it into glam and wear it to go dinner for example. This time I included a coco leather belt to stylize it, but the without it the dress lays perfectly too!
You already know the boots, one of the best purchases this season! They are comfy and very cool and you can wear it for every ocassion. The bag is new in my wardrobe and I love it beacause it mixes clasic style and the must of the season : spikes and studs. It is cheap&chic, because it no real leather and at Pilar burgos the sales have sarted already

Thousands of kisses!
Caribou es el nombre del modelo del vestido, ¿chulo verdad? Me encanta por el precioso color azul que tiene, la calidad y caída del punto y por su diseño asimétrico tan original. Me gustan mucho este tipo de vestidos porque son muy casuales y los puedes llevar durante el día. La manga larga es otro gran punto a favor. Otro día lo llevé con UGG, sin cinturón y con una chaqueta de punto oversize y queda genial también. Pero lo mejor es que si te lo pones con unos zapatos de salón y un bolso de mano, puedes ponértelo de noche también. ¡Es todo terreno!
Las botas ya las conocéis, ¡una de mis mejores compras esta temporada! Me resultan cómodas y me parecen espectaculares. El bolso es una de las últimas entradas en mi armario. Me parece genial la mezcla de un modelo clásico con la tendencia de la temporada: los pinchos y tachuelas. Además de las borlas de flecos y de la correa larga que incluye para hacerlo bandolera cuando quieras. Es genial y un chollo (porque no es de piel de verdad y además en Pilar Burgos ya han empezado las rebajas
)
Estad atentos porque durante el día de hoy publicaré en Facebook el nombre de la ganadora del sorteo del clutch de pinchos de Belle Bohême. ¡Qué nerviossss!
Vestido/Dress: Buylevard
Botas y abrigo/Boots and coat: Zara
Bolso/Bag: Pilar Burgos