Aquellos que me seguís desde hace tiempo sabéis cuánto me preocupo por mis dientes. Creo firmemente que una bonita sonrisa es el mejor complemento que se puede llavar. Y es perfecto, porque pega con cualquier look y estilo
Esta es la razón por la que no tuve ninguna duda cuando el equipo de SmyLife me ofreció ser su embajadora. Su concepto es único e innovador. Desde el primer momento en que entras en esta clínica dental, lo notas. El olor súper agradable, la decoración cool y acogedora, el personal encantador…¡parece cualquier cosa menos una clínica dental! Todo allí es especial y diferente.
Those of you who have been following me since time ago already know how much I care about my teeth. I do think that a beautiful smile is the best complement you can wear. And it´s perfect, beacause it will always fit with every look and style
That´s why I had no doubts when Smylife crew offered me to become one of the brand ambassadors. Their concept is unique and fresh. Since the very first moment you enter in the clinic you notice it. The nice smell (nothing in common with the typical dental offices), the cool and chic deco, the friendly atmosphere..everything is special and different.
Para enseñarnos su producto estrella, SmySecret, nos invitaron a un viaje increíble a Estepona. En un primer momento, no sabíamos muy bien qué es lo que hacíamos allí. ¡Era un secreto de verdad! Una vez allí, en el maravilloso hotel de cinco estrellas Elba Thalasso&Spa, nos presentaron toda la magia de SmySecret. Una nueva y revolucionaria ortodoncia invisible. Trabaja aún mejor que las tradicionales, mucho más rápida y, lo mejor de todo y lo primero que pregunté: EL PRECIO ES MUY SIMILAR A LOS TÍPICOS BRAQUETS. Increíble pero cierto.
Nos han ofrecido probarlo y, por supuesto, voy a hacerlo. Supongo que como mucha gente, yo llevé los horribles y dolorosos (y asquerosos) braquets de pequeña. Pero el trauma sirvió de poco. Porque con el paso de los años se han vuelto a descolocar. Si no había dado este paso antes es precisamente porque me negaba a volver a pasar por ese suplicio. Y segundo, porque las otras ortodoncias invisibles que conocía (además de ser carísimas) mi dentista me aconsejaba que no optase por ellas por ser mucho menos efectivas.
¿La buena noticia para vosotras? Si pedís una cita en SmyLife y decís que soy lectoras de TrendyTaste (o Natalia, como mejor os parezca ;)) podréis disfrutar de un montón de ventajas: Spa dental totalmente gratuíto (limpieza blanqueadora a fondo), diagnóstico y diseño de tratamiento gratuíto (incluyendo hasta las radiografías, pruebas, moldes…que fueran necesarios) y grandes descuentos en cualquier cosa que os queráis realizar. Todo sin ningún compromiso, por supuesto. Realmente os lo recomiendo aunque solo sea por conocer la clínica y los servicios que ofrecen. Un chollo, ¿no?
To show us their flagship product, SmySecret, they took us to an awesome tryp to Estepona. At the first moment we didn´t know very well what we were exactly doing there. It was a real secret!!! Once there, in the fantastic five stars Elba Thalasso&Spa hotel, they introduced us to the SmySecret magic. A new kind of revolutionary orthodontics, just the same spirit of the whole SmyLife concept.  SmySecret is an invisible orthodontia, that works strongly and quickly. I´m going to use it for a few months and I will tell you all the experience.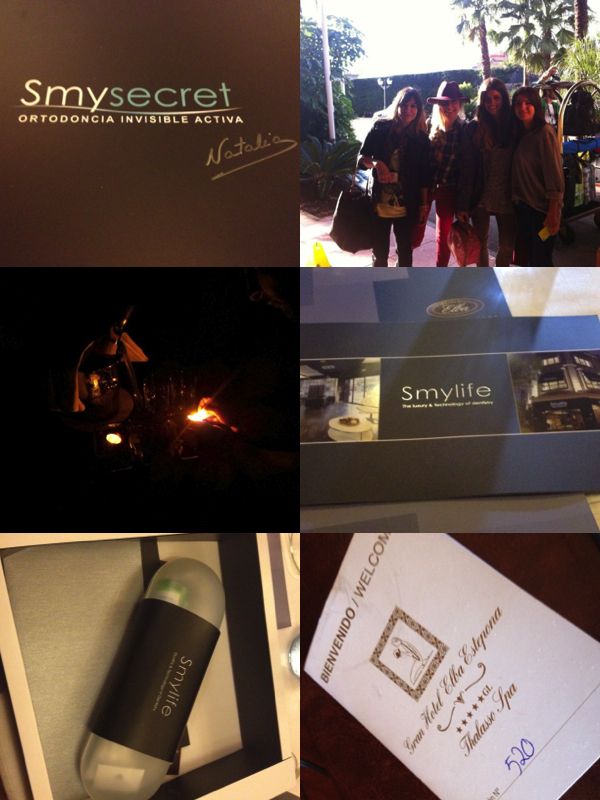 Os dejo aquí algunos collages con fotitos del viaje. La verdad es que lo pasamos increíble y nos trataron como reinas. Un viajazo de lujo que tuve el placer de compartir con mis coleguis Priscila, Alexandra y Bárbara. Como podéis ver disfrutamos de tratamientos SPA en el hotelazo, comilonas por todo lo alto…además de disfrutar de una visita el salón que tiene Lorena Morlote en Marbella (por allí han pasado grandes como Paris Hilton y Mischa Burton, podéis ver las fotos más abajo), donde nos dejaron muy guapas y súper relajadas (el masaje shiatsu que te hacen al lavarte la cabeza es un espéctaculo). Allí además tuvimos el placer de conocer en persona a la diseñadora de moda Carola Toca. Además de tener un sentido único para el diseño es una persona encantadora. Pese a estar acostumbrada a vestir celebrities para la alfombra roja, fue tan maja que nos dejó probarnos la primera colección de sus diseños pret-a-porter.
Here you have some pics collage of the luxury travel I shared with my lovely friends Priscila, Alexandra and Bárbara. As you can see we enjoyed a few days surrounded by delicious food, SPA treatments…I´d like to do a special mention to the Lorena Morlote hairdressing salon, vanguardist and cool. They left us so pretty and relaxed! There we could as well knew a fantastic and lovely fashion designer called Carola Toca. She has dressed lots of celebrities for red carpet and has an unique fashion sense.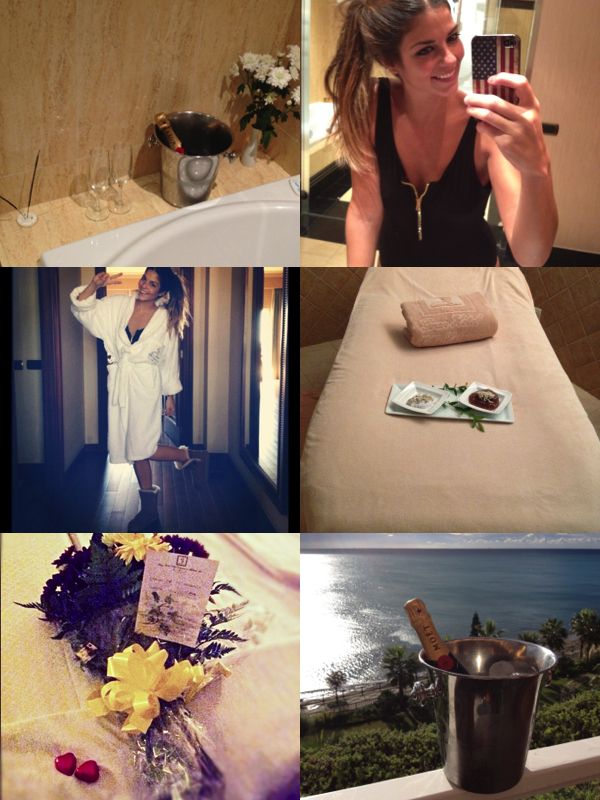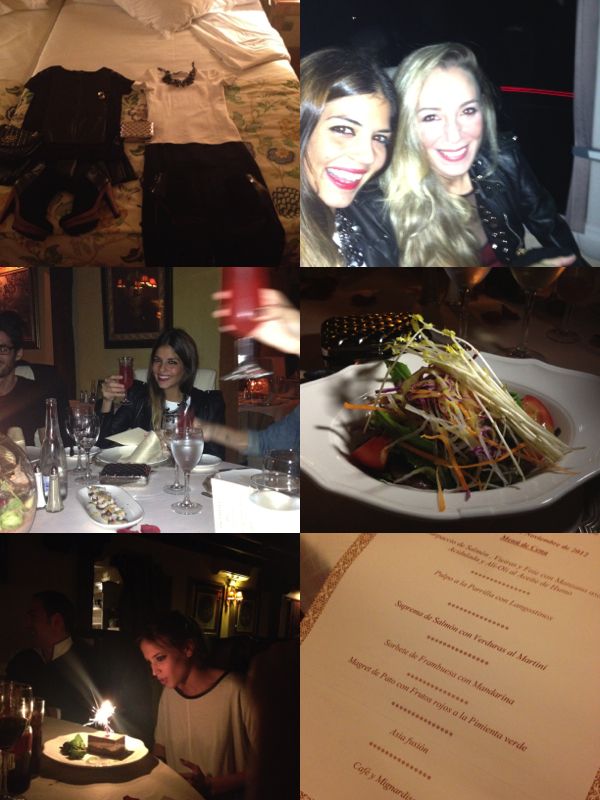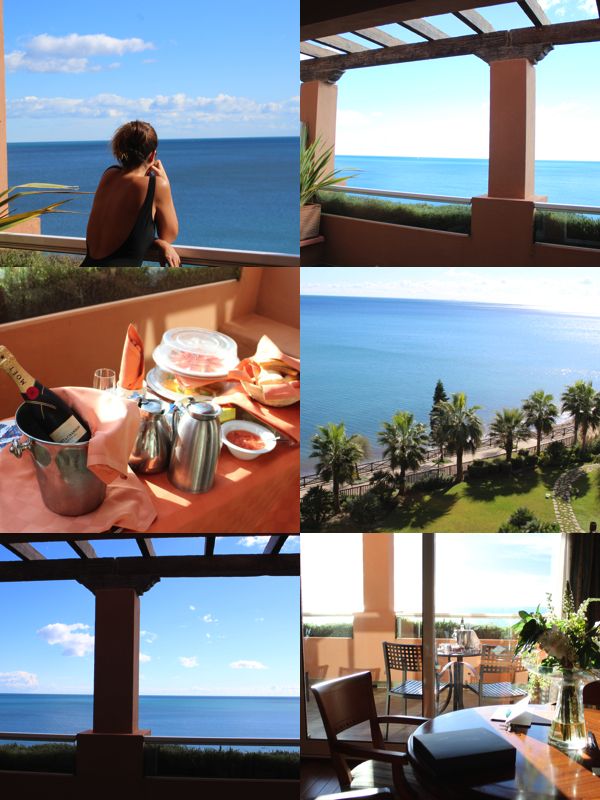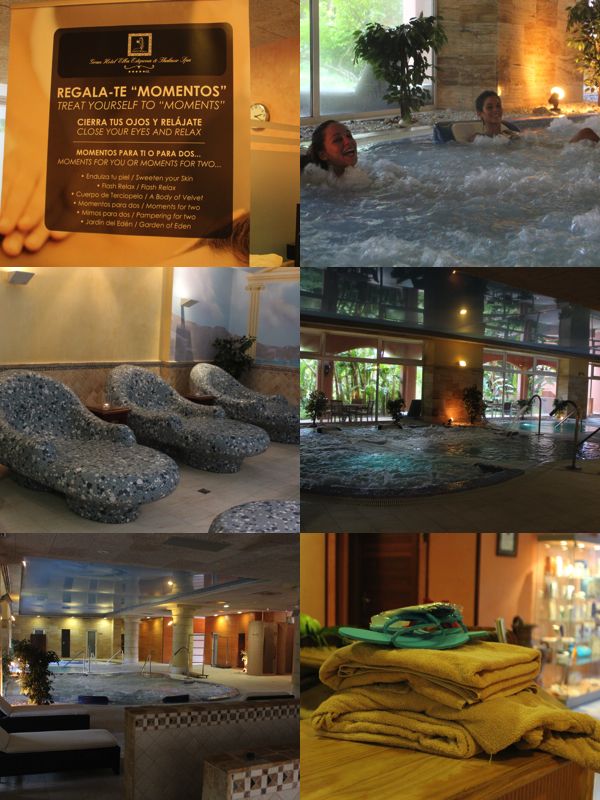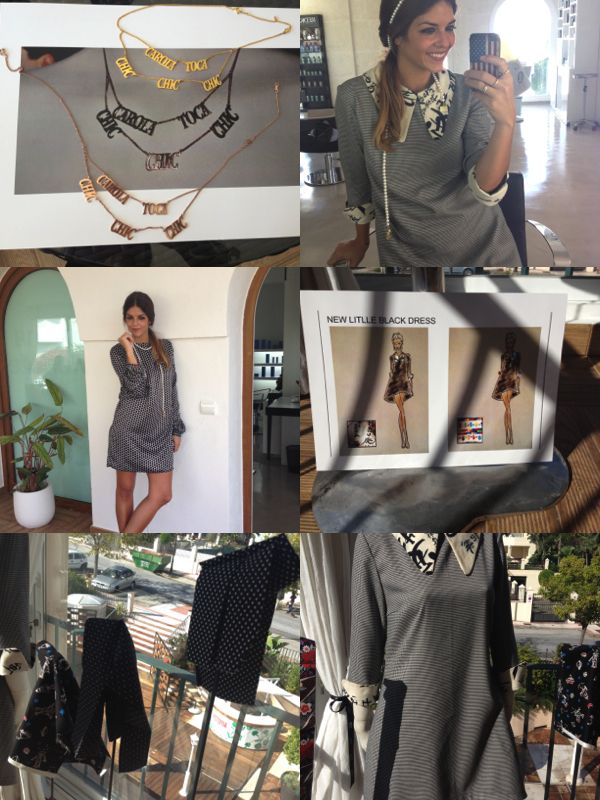 Pero creo que para sentir toda esta experiencia tan especial lo mejor es echar un vistazo al vídeo grabado y editado por Santi Trancho. Muchos lo conoceréis por ser el cámara y compañero de venturas de Frank de la Jungla y otros por los demás trabajos que ha hecho en televisión. Yo que le conozco de este viaje os puedo decir que además de hacer un trabajo increíble es un tío muy guay

Por último un besazo a María Cordero, quién pensó en mi como embajadora y es una profesional como la copa de un pino y una gran persona.
Esta noche tenemos nuestra primera fiesta (fiestón en realidad) como embajadoras de SmyLife. Pasaremos photocall junto al resto de celebrities que van a asistir e incluso entregaremos un premio. ¡Os iré contando todo por Twitter e Instagram!
¡¡¡MIL BESOS!!!
But the best way to feel all this special experience is to have a look to the video made by Santi Trancho. A funny and great cameraman very famous in Spain because of his TV programs.
Tonight we have a super party as the SmyLife ambassadors and I´m so exited, I will tell you every detail by Instagram and Twitter!
Thousands of kisses!!!