Since I recieve lots of requests for hair care products and treatments I´ve decided to do regullary posts with my favourites and some tips. Here is the first! These are my essentials: shampoo and conditioner from Alterna.
Como recibo montones de peticiones y preguntas sobre mi pelo, los productos que utilizo, tratamientos, coloración…he pensado que es una buena idea ir incluyendo posts regularmente sobre aquello que uso y novedades que vaya probando. ¿Os apetece?
¡Aquí va el primero! Empezando por lo básico: champú y acondicionador. Ya os he hablado del enganchón que tengo desde la primera vez que probé los productos de Alterna (también hice un sorteo de kits, ¿recordáis? Intentaré conseguir más ;))
Yo era la típica que cuando salía de viaje nunca llevaba su champú encima. Como voy siempre mal de espacio, decidía comprarme cualquiera al llegar a mi destino para esos días. Por suerte o por desgracia, ¡eso ha acabado! Me acompañan donde quiera que vaya. Es más, si se me gasta y paso unos días sin ellos hasta que voy a comprarlos, lo paso mal…es espectacular como queda el pelo.
BAMBOO VOLUME BASICS: SHAMPOO&CONDITIONER
Every product in the BAMBOO Collection starts with Certified Organic Bamboo derived from our planet's fastest growing, most resilient botanical resource to immediately boost hair's inherent strength-laying the foundation for sustainably stronger, healthier hair. In addition, each line also features a beauty benefit specific, natural ingredient selected for its ability to deliver the best, most efficacious results.(All products contain certified organic ingredients that are grown responsibly & traded ethically)
Todos los productos de la olección Bamboo  están compuestos con extractos naturales de bambú. Al ser una planta elástica y resistente, el porducto aplicado en el cabello obtiene las mismas características. El pelo queda más sano, fuerte y brillante. Dentro de la colección hay diferentes líneas dependiendo de las necesidades de cada una. Yo utilizo la línea VOLUMEN.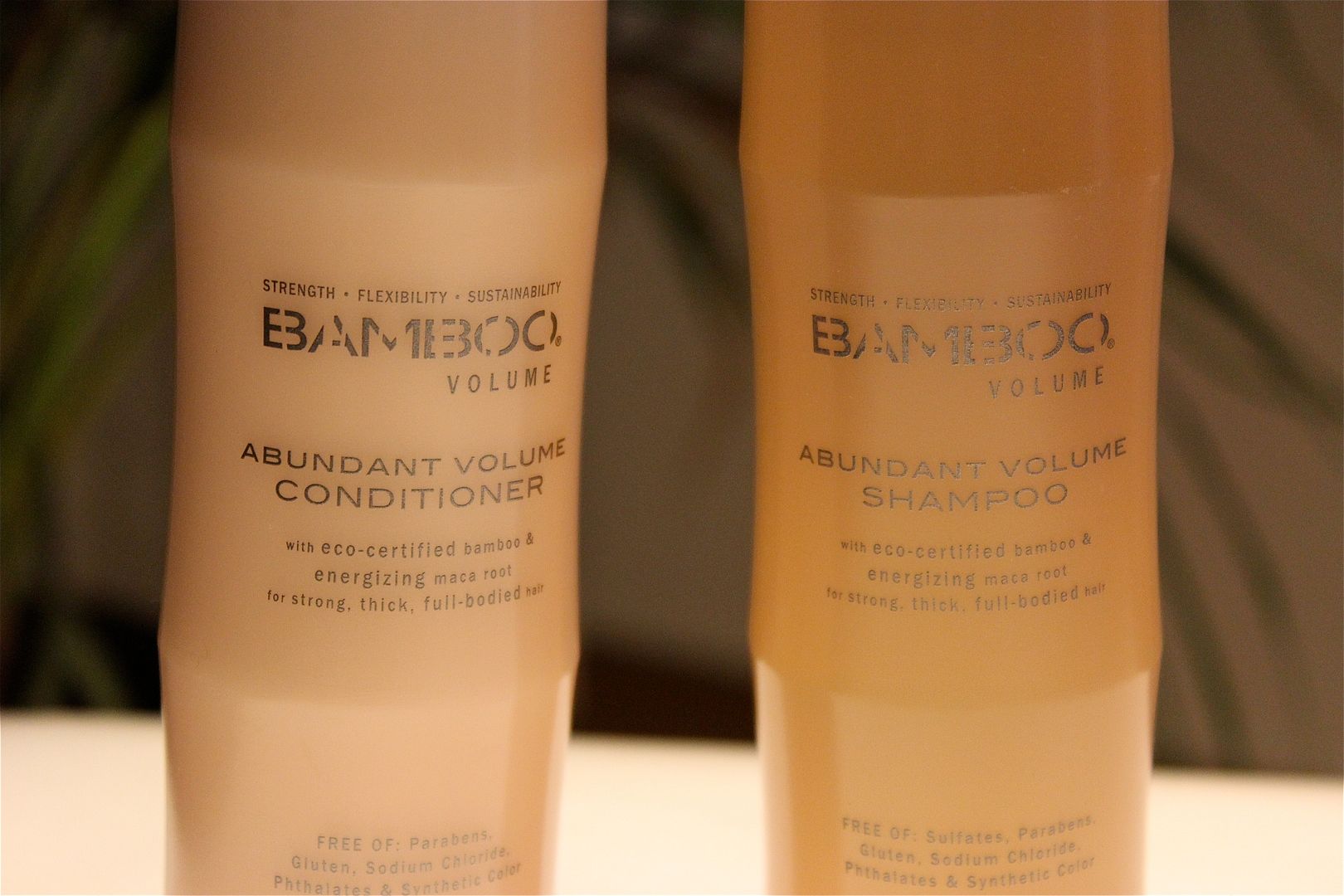 BAMBOO VOLUME SHAMPOO
Gently cleanses and energizes your hair with weightless moisture for a fresh, full-bodied look. Color Hold technology provedies also color retention in trated hairs.
Limpia y aporta energía al pelo. Lo hidrata muchísimo (importante para todo el mundo, pero aún más si lo decoloras como es mi caso). Me gusta porque el pelo consigue más cuerpo y además no contiene parabenos, sales ni sulfatos. El PH además es el adecuado y así puedes usarlos incluso si te has hecho algún tratamiento alisador (como queratina o alisado japonés).
BAMBOO VOLUME CONDITIONER
Weightless moisture and vital nutrients amplify hair volume and healthy shine.
Proporciona humedad sin aportar peso, muy importante para mí. No puedo soportar los acondicionadores que apelmazan y dejan el pelo "pegado". Aporta volumen y muchísimo brillo. (¡Para aplicarlo importante retirar antes el exceso de agua tras el lavado!)
¿DÓNDE COMPRARLO?
Yo lo conocí y lo compro en Lorena Morlote. Pero seguro que hay muchísimos más puntos de venta. Pinchad AQUÍ para acceder a su página de Facebook en español y ahí seguro que os informarán.
También os dejo un vídeo abajo donde explican muy bien toda la gama (lo he pillado de su web y está en inglés)
For further info here you have the Bamboo products video of Alterna explaining them:
[vimeo http://www.vimeo.com/16338091 w=500&h=281]