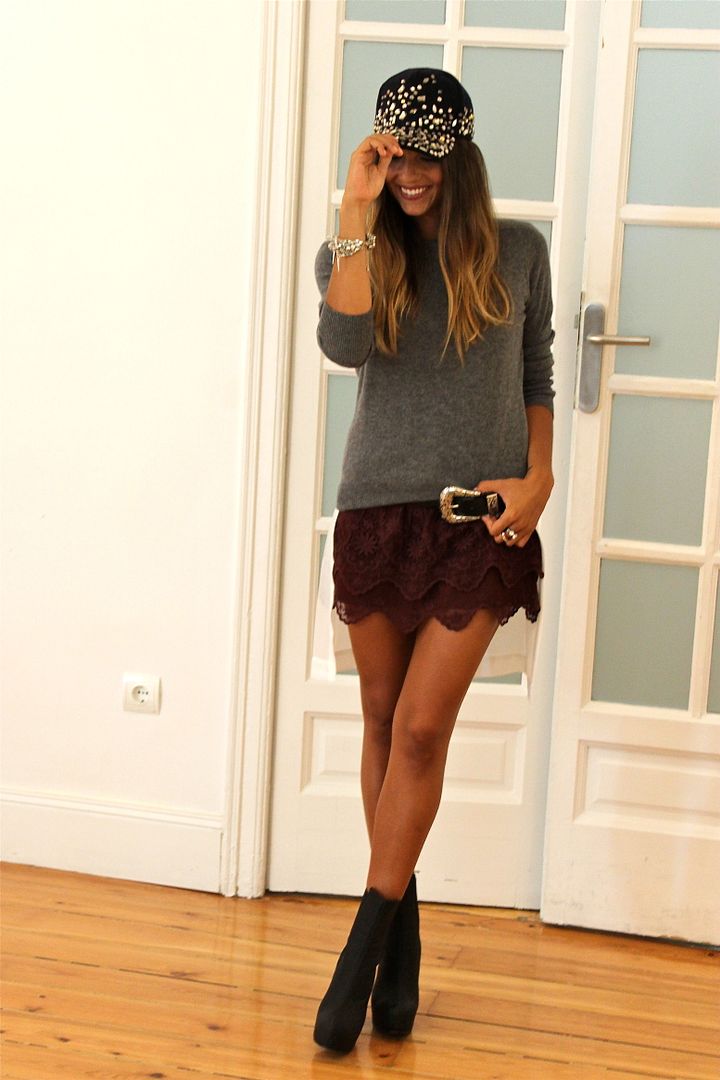 Last thursday we went to the H&M showroom in Madrid and spent the afternoon enjoying the new collection, having some macarons and tea while sharing great time with my colleagues Priscila, Sara and Erea. The new make up products of H&M is really awesome! Lots of nails lacquers, great lipsticks and beautiful eye shadows. I had to choose a look and then they made up me acording to my outfit. Silver eyeshadow and burgund lips pairing with the gorgeous lace skirt. I felt in love with it! I can´t wait to purchase it. The cap and the belt are as well in my wishlist now!! The collection for this season is amazing, I´m sure you will be think the same

I risked a bit with this look, but I wanted something different for this special occasion, do you like it?
THOUSANDS OF KISSES!
El jueves fuimos al showroom de H&M en Madrid y pasamos la tarde entre macarons, tés disfrutando de la nueva colección con mis coleguis Priscila, Sara y Erea. La nueva línea de maquillaje de H&M es una pasada. Con un montón de lacas de uñas (incluyendo kits de manicura francesa, lacas craqueladas, preciosas barras de labios y sombras de ojos y ¡hasta polvos de sol! Tuvimos que elegir un look completo de la nueva colección y luego nos maquillaron acorde a él. Por los tonos del mío, la maquilladora eligió una sombra líquida plateada y barra de labios en color granate a juego con la faldita de encaje que escogí. ¡Me enamoré de ella al instante! La gorra y el cinturón han pasado también a mi wishlist, estoy deseando que llegue la colección a las tiendas para ir a por ello. Me pareció súper chulo todo lo que viene para esta temporada, estoy segura que en cuanto lo veáis estaréis de acuerdo conmigo

Me la jugué un poco montando un look arriesgado y original, ¿Qué os parece?
¡MIL BESOS!