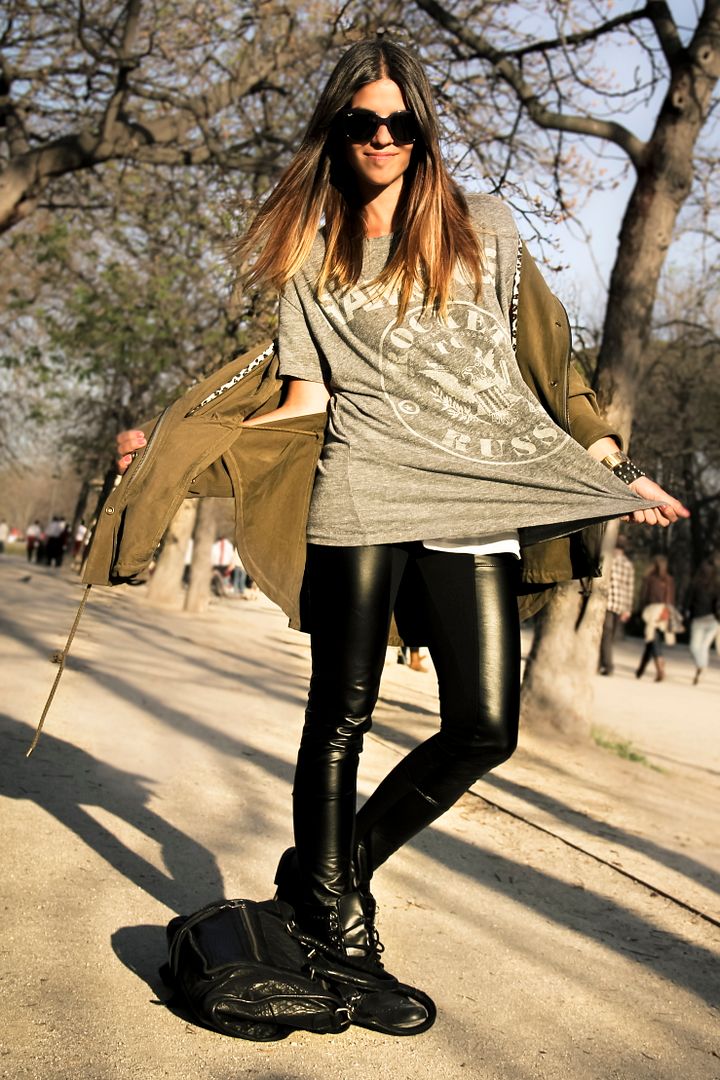 Parka: Queens Wardrobe (Rebajas/Sale)
Camiseta/Tee:Gap Men (Old)
Leggings: Queens wardrobe
Botas/Boots: H&M (Old)
Fular/Scarf: Primark (Old)
Bolso/Bag: Urbaks (Old)
Pulsera/Bracelet: Zara (Old)
Reloj/Watch: Queens wardrobe (New)
Gafas de sol/Sunnies: Ray Ban-Óptica Mateos
Yesterday, having a look to my twitter pics I realized that in most of them I´m wearing this tee! The weird thing is that I guess I had never post it here in the blog… life stuff! I do love it, it´s so comfy (it super big because is fom the men section), super cool and it matches with differents styles and looks. Really awesome! I wore this look for my first photography class. I spent the hole day in the Retiro park shooting and learning different techniques, I´m really excited! I do want to take better pics now I have my stunning reflex camera.
It´s a relaxed look but so nice! The mix of the leather leggings, combat boots, Ramones tee, green cape parka and the animal print scarf really works! The parka is one of my last purchases and I love it. We all have seen lots of different styles of this clothe but the cape style and thin material makes it so original and perfect for spring season.
Finally, I´d like to apologize for not posting yesterday. I was in Valencia and because of the few time I had I had to choose between a super beakfast at the hotel or publish this pictures…now you know what I decided! Yep, I change you for a handful of coissants, chocolate pastries, orange juices, toasts…so sorry!

THOUSANDS OF KISSES!
Ayer echando un ojo a las fotos que tengo en twitter me di cuenta de que ¡en muchas de ellas  llevo esta camiseta! Lo raro es que creo que nunga os la he enseñado aquí en ningún look…¡cosas de la vida! Me encanta, súper cómoda (es gigante porque es de la sección de hombre), súper cool y va con muchísimos estilos y diferentes looks aunque pueda no parecerlo. ¡La he llegado a llevar varias veces con tacones y hasta para salir por la noche! Llevé este look para mi primera clase de fotografía. Pasé todo el día en el parque del retiro sacando fotos y aprendiendo diferentes técnicas, ¡estoy emocionada! Quiero aprender a sacar mejores fotos ahora que por fin tengo mi réflex.
Es un look muy relajado pero creo que bastante chulo. El mix de los leggins de cuero, botas militares, camiseta de Ramones, parka y fular de leopardo ¡realmente funciona! La parka es una de mis últimas adquisiciones y estoy flipada con ella. Todos hemos visto muchos estilos diferentes de esta prenda pero el estilo capa y el material muy finito con el que está hecha, hacen a ésta perfecta para la primavera.
Por último me gustaría disculparme por no postear ayer. Estaba en Valencia y tenía poco tiempo, así que me vi obligada a elegir entre publicar o el mega desayuno en el hotel…¡ya sabéis que elegí! Si, os cambié por un puñado de croissants, napolitanas de chocolate, tastadas, zumos de naranja…¡lo siento!

¡MIL BESOS!